B&R presents fully integrated cameras at SPS IPC drives.
B&R's entry into the machine vision market is led by two camera variants: Smart Sensor and Smart Camera. Since the hardware is fully integrated in the automation system, the cameras can be syn-chronized to machine functions with microsecond precision.
The Smart Sensor is designed to implement a single machine vision functionality, such as QR code reading or position detection. Unlike many other devices in its class, there is no need to install dedi-cated hardware for each function. Instead, the user simply configures the desired Smart Sensor function in the Automation Studio development environment. OEMs only have to stock a single camera type and are nevertheless able to support a wide range of applications.

Scalable Hardware
In cases where more than one functionality is required, it is easy to switch to the more powerful Smart Camera. The existing application software, parameters and models can continue to be used. Whichever camera type is selected, installation could hardly be easier: Simply hook the camera up to the machine network, and it automatically obtains all the settings it needs from the controller.
Optimum Image Quality
Smart Sensor and Smart Camera can each be equipped with one of three image sensors, ranging from 1.3 to 5 megapixels. All three sensors are characterized by their large pixel size, high light sensitivity and low noise. This guarantees optimum image quality – even in high-speed applications. Lighting can be implemented in the form of integrated LEDs or external barlights and backlights.
Housing variants are available with either an integrated lens or a standard C mount. The integrated lenses have electronic focus adjustment and are available in focal lengths from 4.6 to 25 mm. All B&R lenses are specially optimized for the image sensors used to achieve maximum sharpness and optimal imaging performance.
One Cable is all you Need
The camera only needs a single cable. The camera is integrated into the machine network via an M12 hybrid connector which also supplies the necessary 24 VDC power. A second hybrid connection enables easy daisy-chain cabling with additional cameras or B&R lighting elements.
B&R is an innovative automation company with headquarters in Austria and offices all around the world. The innovative spirit that keeps B&R at the forefront of industrial automation is driven by a commitment to simplifying processes and exceeding customer expectations.
Data Acquisition, Evaluation & Transmission to the Cloud
B&R presents powerful Edge Controller at Hannover Messe
A single device to acquire data, evaluate it and send it to the cloud – that's now possible with B&R's Edge Controller. The powerful industrial PC can even be used for big data analysis and machine learning, while at the same time serving as a full-fledged industrial controller.
B&R's Edge Controller is based on the robust Automation PC 910, whose high-performance variant is equipped with an Intel XEON processor able to handle resource-intensive tasks like machine learning. The Edge Controller runs a hardened operating system – a commercial Linux variant with guaranteed long-term support. Cloud transmission occurs via MQTT.
Full-fledged Industry Controller
B&R Hypervisor makes it possible to simultaneously run a real-time operating system on the Edge Controller. That turns the edge device into a full-fledged industrial controller with cycle times in the sub-millisecond range. An unlimited number of I/O modules or controllers can be connected via the POWERLINK Industrial Ethernet protocol, OPC UA or other fieldbus systems. With the Edge Controller, this will soon also be possible with OPC UA TSN.
Easily in Touch with Your Machines
B&R cloud application powered by ABB Ability opens new opportunities for OEMs
Asset Performance Monitor is B&R's first cloud application based on ABB AbilityTM, ABB's uni-fied, cross-industry offering of digital solutions. By giving OEMs a reliable overview of all their machines in the field, it allows them to identify potential improvements, take service operations to the next level and unlock new business models and revenue streams.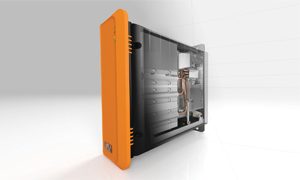 Around the clock, Asset Performance Monitor delivers data about production rate, energy consump-tion and temperature. Users can define which information is required, and the application automati-cally calculates key performance indicators (KPIs) such as overall equipment effectiveness and pro-vides opportunities for improvement.  Asset Performance Monitor prepares the data and displays it in a clearly organized dashboard. OEMs can then use this data to implement well-targeted machine upgrades and offer their customers next-level service.
Open Architecture
An edge device is installed on site to collect data from a machine or production line. It receives data from the machine controller via OPC UA and passes it on to the cloud using the MQTT protocol. The edge device automatically establishes a connection to the ABB Ability cloud and installs the necessary software. Simply logging in with a username and password gives the OEM access to As-set Performance Monitor and all the features it has to offer.